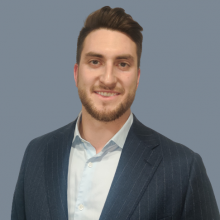 Senior Project Manager
Jordan Wagner
Jordan joined the team after leading the Commercial FF&E team at TFE Hotels for the past 4 years

After a move from the UK working on delivering educational facilities 5 years ago, Jordan has completed projects in Commercial, Residential and Hospitality sectors. Recently, Jordan's focus has been delivering Hotel fit-outs for a number of Brands throughout Australia and brings in-depth knowledge of FF&E, value management, procurement and installation to Paro.

He has developed a reputation for exemplary stakeholder management communications across a number of complex projects, working closely with Architects, Interior Designers, Builders and Hotel Operations to ensure the highest quality is achieved and project deliverables are met on time and on budget.

There are no secrets to success. It is the result of preparation, hard work, and learning from failure.
SEEMINGLY ELEGANT DESIGN
Reviews about my work
A client that's unhappy for a reason is a problem, a client that's unhappy though he or her can't quite put a finger on it is worse.